Do you own an electric golf trolley and find it's starting to struggle to go a full 18 holes on one charge?
Or do you own a Motocaddy or PowaKaddy and just need a newer more efficient and longer lasting battery? then read on. This review will give you all the facts and information that you'll need to purchase the right battery for you. Saving you time and money.
The new Lithium batteries come in two different sizes that will do 18 holes and 36 holes on one charge plus they're lighter and smaller so your trolley will be easier to handle.
Lot's of golfers don't realize that you can simply change and upgrade your battery for one of these 36 hole modern batteries and they come with a 5 Year Warranty.
Why should you buy one?
Just for the fact they're lighter and charges quicker is worth upgrading your existing battery to one of these Universal Golf trolley battery let alone the fact that you're saving the planet by getting rid of the old acid type ones.
Peace of mind is important and knowing that your trolley will definitely last the whole round is worth the cost of upgrading your old battery.
Size counts, they are much smaller and lighter and more reliable than your old acid battery.
I have purchased the POWAKADDY UNIVERSAL 36 HOLE LITHIUM GOLF BATTERY +CASE & CHARGER and I love it. It has given me peace of mind that it will last the whole round without leaving me stranded on the 10th hole. It also seems to have more power and the trolley isn't as slow. But I can't guarantee that maybe it's just me, but it does seem to have more power going uphill.
Will it fit my trolley?
Most old golf trolleys have a larger Acid type battery and with them being very large and heavy you'll find after removing them there will definitely be enough space to hold these new smaller and lighter batteries.
By upgrading to the
Powakaddy lithium 36 hole battery
as an alternative to your old acid electric trolley battery you will get the benefit of quicker charging times, lighter and 20% more staying power. The battery also has a longer lifespan with 5-year warranty and can be charged within 5 hours, lowering the overall costs per round to benefit you in the long term.
These new batteries come with a Lithium universal battery lead that fits most trolleys. Please check before you click buy but it fits most golf trolleys old and new. Some of the newer models use a different shape battery so check before buying.
Which is the best Universal golf battery?
Our choice – The PowaKaddy 2018 Universal golf trolley battery comes in two different sizes.
Don't waste your time with cheaper Universal batteries costing approximately £125-£150 as they just don't last as long. They're slow to charge and often fail without warning and don't have as much power.
PowaKaddy has a fantastic reputation and these batteries have been given some great reviews on eBay and American Golf.

The high energy PowaKaddy Lithium battery uses the most advanced lithium technology to give you at least 20% more staying power than any other battery. The battery uses power intelligently with an advanced battery management system to prolong the lifespan of the battery.
This battery is lightweight compared to an equivalent lead-acid battery and can be fully charged within 5 hours and has a five times longer lifespan to reduce the overall cost per round. With the battery comes a neoprene battery bag with carry handle and comes with lithium battery charger which protects and prevents overcharging. For peace of mind and added value, the battery comes with a 5-year warranty. Size: (H) 80 x (L) 180 x (W) 134
PowaKaddy Lithium Batteries
What do you get for your money?
POWAKADDY 18 HOLE LITHIUM BATTERY
POWAKADDY LITHIUM SPECIFIC CHARGER
POWAKADDY NEOPRENE BATTERY COVER
TORBERRY CONVERTER CABLE / LEAD
INSTRUCTION & WARRANTY CARD
What warranty do you get?
The battery is covered by a 3-year standard warranty from the date of purchase.If the universal battery should fail during the 4th year of ownership PowaKaddy will offer you a brand new replacement for 30% off the listed purchase price of the battery. If your battery should fail in year 5, a 15% discount off the listed purchase price.
Where to buy one
Ebay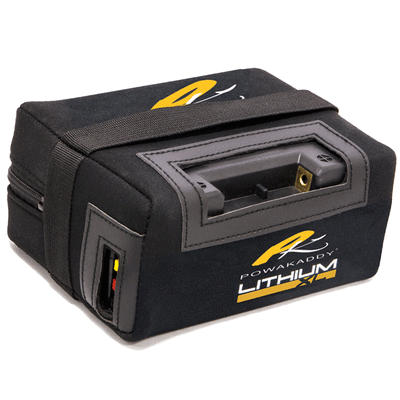 Chargers & Accessories
Fancy a new golf trolley?
Amazon
Electric Golf Trolley (Silver)
Features
| | |
| --- | --- |
| Binding | Sports |
| Brand | Pro Rider |
| Department | Golf Trolley |
| EAN | 5060176864887 |
| EAN List | EAN List Element: 5060176864887 |
| Item Dimensions | Weight: 4409 |
| Model | PR1192 |
| MPN | PR1192 |
| Package Dimensions | Height: 1260; Length: 3583; Weight: 4850; Width: 2047 |
| Package Quantity | 1 |
| Part Number | PR1192 |
| Product Group | Sports |
| Product Type Name | SPORTING_GOODS |
| Size | Adult |
| Title | Electric Golf Trolley (Silver) |
Offmetrolley Z1 36 hole Electric Golf Trolley - White
2 new from £209.99
Free shipping
Features
36 hole Electric Golf Trolley, 200 Watt Motor, 33ah lead acid 36 Hole Battery,
Strong and Lightweight, Quick Release Compact Folding, carrying capacity 30kgs, up to 30 degree inclines
All Digital Display, Distance Timer Function 10, 20, 30metres, 7 Manual Speed Settings plus Variable Speed Control. Battery Level Indicator, Quick Release Rear Wheels
Trolley Net Weight 9.5kgs - Including Battery 18kgs - Dimensions in cms Folded 79L x 54W x 30H - Delivery Carton Size 83 x 60 x 28cms
Price includes Trolley, Battery, Charger and UK Delivery
"NEW 2017" BEN SAYERS BLACK ELECTRIC GOLF TROLLEY + 36 HOLE BATTERY & CHARGER
Features
NEW 2017 MODEL
PIANOELECTRIC GOLF TROLLEY BLACK
ELECTRIC GOLF TROLLEY
+36 HOLE BATTERY & CHARGER
+FREE FULL ACCESSORY PACK WORTH RRP £149.99
POWAKADDY FW3s BLACK ELECTRIC GOLF TROLLEY +18 HOLE LITHIUM BATTERY / NEW 2018
Features
NEW 2018 MODEL
POWAKADDY FW3S ELECTRIC GOLF TROLLEY
PIANO BLACK
18 HOLE LITHIUM BATTERY
+ FREE POWAKADDY TRAVEL BAG WORTH £34.99
"NEW 2017" POWAKADDY FW3i BLACK ELECTRIC GOLF TROLLEY 18 HOLE LEAD ACID BATTERY & CHARGER
out of stock
Features
NEW 2017 MODEL
POWAKADDY FW3i BLACK ELECTRIC GOLF TROLLEY
18 HOLE LEAD ACID BATTERY
OFFICIAL STOCKIST
Motocaddy M1 Pro Electric Golf Trolleys (18 hole Lithium Battery)
Features
Golf M-1 Pro Motocaddy trolley with Lithium Battery
Are you on a budget?
If you're interested in one of these amazing batteries but have a budget or a limit that you'd like to spend on one. Simply enter your email address and price limit and we'll let you know when the products are available at that price. Then you can grab a bargain.
Ebay
"NEW 2018" POWAKADDY UNIVERSAL 18 HOLE LITHIUM GOLF BATTERY +CASE & CHARGER

Ebay
Statistics
| | | |
| --- | --- | --- |
| Current Price | £189.00 | 05/04/2020 |
| Highest Price | £189.00 | 22/03/2020 |
| Lowest Price | £169.00 | 26/01/2020 |
Since 26/01/2020
Last price changes
| | |
| --- | --- |
| £189.00 | 22/03/2020 |
| £169.00 | 26/01/2020 |
POWAKADDY 2018 UNIVERSAL 36 HOLE XL LITHIUM GOLF BATTERY +CASE & CHARGER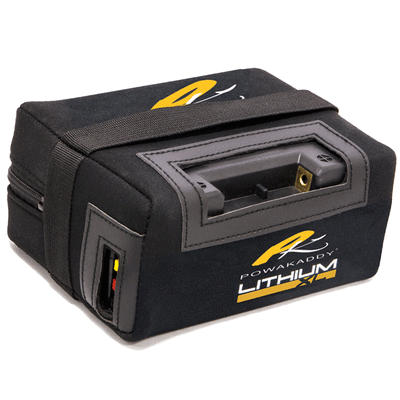 Ebay
Statistics
| | | |
| --- | --- | --- |
| Current Price | £239.00 | 05/04/2020 |
| Highest Price | £239.00 | 22/03/2020 |
| Lowest Price | £219.00 | 12/01/2020 |
Since 12/01/2020
Last price changes
| | |
| --- | --- |
| £239.00 | 22/03/2020 |
| £219.00 | 12/01/2020 |